Take a Day Cooking Class With Us
Join us for fun and food. One of the most interesting and fascinating experiences in Tuscany is taking part in a private cooking class. Tuscan cuisine is based on recipes belonging to rooted traditions. We give you the opportunity to discover all the secrets of Tuscan food in an entertaining and informative private cooking class organized especially for you in our kitchen.
Our classes are fun!  We call them culinary experiences–much more than a class!
Our 400-year old kitchen dates to the times when the local farmers used our kitchen as the central place to prepare meals for their families. The duration of our classes ranges from 2 to 3 hours and ends with you sitting at the table and enjoying the delicacies you have prepared. The class is designed around a typical Tuscan meal with fresh local in-season ingredients and is taught in English in our kitchen. Our classes are not only informative, but they are fun!
Come prepared to laugh, dance, drink Italian wine, and learn the secrets of our kitchen!
We can usually arrange our classes around your schedule.  Prepare and cook a four-course meal of an antipasti (appetizer), a primo piatto (first dish) of pasta, a secondo piatto (second dish) and finally a dolce (desert). Oh, and did we mention you also make fresh Biscotti and Cantucci? 
And yes, of course we always roll pasta!  Our Secret?  Music and Dancing!
Local Classes Taught by Local Women
For those who want a longer Tuscan culinary experience while staying with us; and want to experience Tuscan cooking as a local, with all the beauty, aromas and flavors of a local, you must visit us for our week-long cooking school. Our classes immerse you in the local culture where you will enjoy a culinary experience like no other. Cooking and tasting opportunities change daily and with each meal.
Classes are designed to impart the real flavor of Tuscan cuisine. If you're looking for professional chefs, you won't find them. Our week-long cooking school in Tuscany is like no other. We go to the real source of the cooking traditions. Our classes are taught by local Tuscan women. The mothers, grandmothers, aunts, and wives who know what real traditional Tuscan cooking is all about.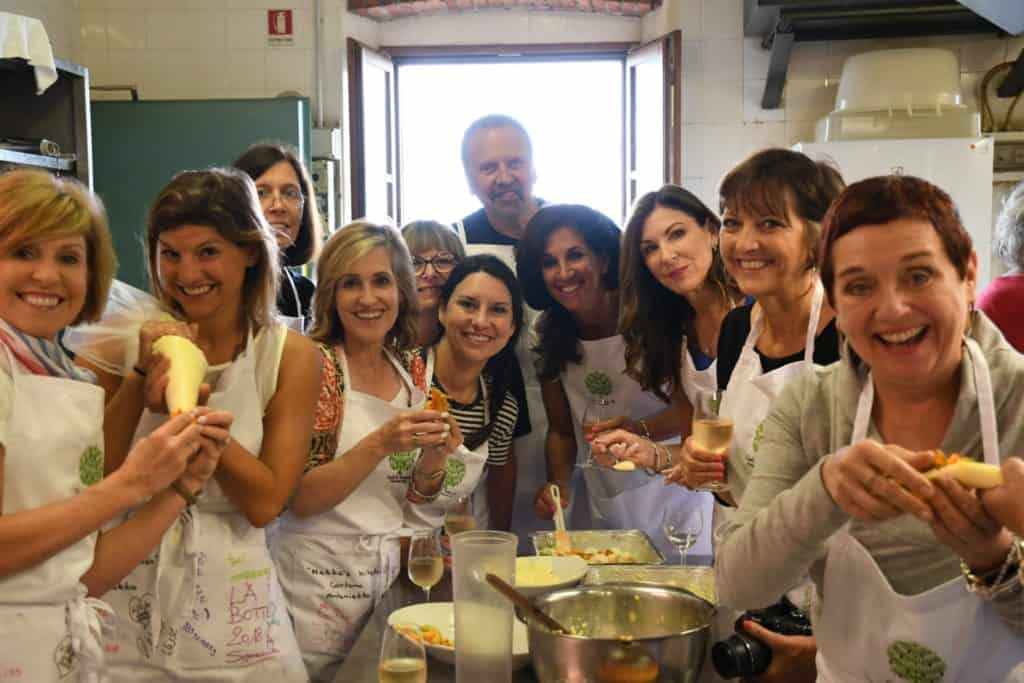 Ready to Join the Fun?
Book Your Stay With us Today!